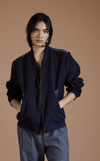 JURO JACKET | PRE-ORDER
Tax included.
The JURO JACKET is a bomber jacket featuring two side pockets, front zipper fastening, and ribbed sleeve cuffs. It also features a hidden pocket.
Care Instructions
Use a mild cycle, cold water, wash your denim separately, flip your garment inside out, and use a detergent made specifically for washing denim. Disclaimer: Fabric bleeding might occur during the first few washes.